Whether you live in Los Angeles, California or Indianapolis, Indiana, it is important to have a yearly skin examination. The dangerous sunrays can affect your skin through cloudy and snowy as well as bright and warm days. Though genetics may make you a higher risk, anyone is susceptible to melanoma and skin cancer. Your skin examination is the best method offered to detect possible cancers early.
How Skin Examinations are Performed
A skin examination is simple, quick, and painless. It begins with a conversation between you and your dermatologistto find out if you noticed any skin or mole changes. Afterward, the doctor will leave the room so you have privacy while changing into a gown. You generally are asked to remove all clothes except your underwear. When you are ready, your doctor enters and starts the skin examination. The hands are looked are, followed by the arms, feet, legs, stomach, and face. He then combs through your hair to look for any skin abnormalities on the scalp. Once the front of your body is examined, you flip to your stomach so he can examine your back. During the examination, your dermatologist may bring out a small magnifying glass and measuring tool for a closer look.
What a Dermatologist Looks for and Does
Your doctor is going to look for skin abnormalities that may be or become cancerous. These are generally found in moles with irregular borders, discoloration, or raised growth. Sunspots or other problem skin is also noted. If a mole has two of these three characteristics, it will most likely be removed. Depending on your dermatologist's concern level, he may simply take pictures of the mole to compare at a later date. This will determine if there are changes occurring. A biopsy, or mole removal,is generally a quick five-minute process. The spot is numbed through an injection and then he will quickly cut it out. Larger moles may need to be removed at a later date if stitches are required.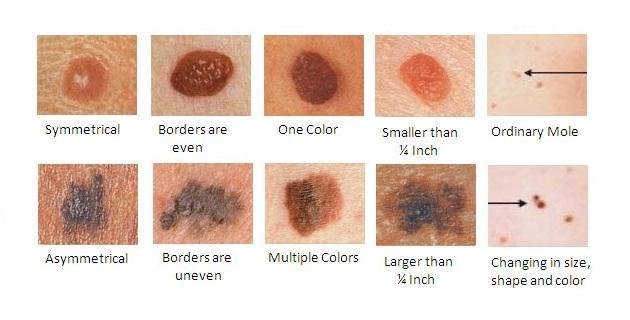 Skin Cancer Statistical Information
In research completed in the United Kingdom, it was found that one in three patients who acquired melanoma found it secondary to other concerns because yearly skin examinations were not performed. Other interesting statistics in term of skin examinations include
Up to 63 percent decreased mortality rate from skin examination
Most common skin cancer is Basal Cell Carcinoma
Over 3.5 million skin cancerdiagnosis each year
Approximately 76,600 diagnoses are melanoma
More than 9,000 of 12,000 skin cancer deaths are melanoma
Up to 98 percent 5-year survival rate when melanoma is found early
A skin examination is a simply procedure that can save your life. Along with your dermatologist, perform a self-examination every few months. Whether you want a specific mole removal or a head to toe check, contact Dermatology Associates today to set up an appointment for your examination.